April 2, 2012
Guru Superfruit Juicy Energy Drink
Guru Superfruit Juicy Energy Drink
Price: $1.99
Active Ingredient: Guru Superfruit contains about 1.5 (8.3fl.oz.) servings, which contains mg/% USRDA (whichever is available, or both, if listed): Calories 120, carbohydrates 29g/10%, sugars 29g, sodium 2mg, potassium 72mg/2%, protein 1g/2%. Guru Superfruit also contains a 1.285g Proprietary Blend, which contains undisclosed amounts of the following: Guarana seed extract, enchinacea flower extract, panax ginseng root extract and ginkgo biloba leaf extract.
Rating: 10 out of 10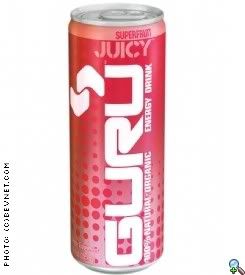 Guru Superfruit Juicy Energy Drink has an extremely delicious taste that felt like an upgraded version of Minute Maid. This drink is high class! Guru products are all natural and provide an organic energy boost. Guru Superfruit Juicy Energy Drink is a great product because not only do you get plenty with the can size, but you don't have to sell a kidney just to get one use out of it. With a great flavor, plenty of energy, and natural appeal, this drink gets an A+ for me!
Posted by Cristi at April 2, 2012 8:12 PM
Beverage Industry Experts Drinks Your Beverage Resources for the Beverage Industry