April 5, 2012
The G Series Gatorade
The G Series Gatorade
Cost- Varies by Quantity.
Active Ingredients- B Vitamin Complex, Carbs, Electrolytes, Protein.
Flavor- Berry, Fruit Punch, Strawberry Kiwi, etc.
Calories- 180-210 (complete series)
Rating- 8.5 out of 10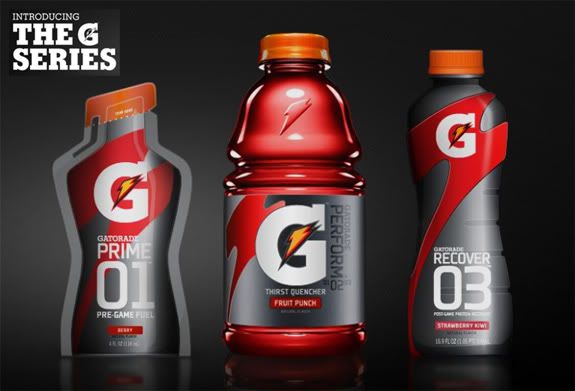 Gatorade's released an awesome line-up of energy drinks, as well as snacks, that are meant to give you overwhelming energy for a kick butt workout from start to finish. Starting with "Prime" (to be consumed 15 minutes prior to your workout) which is fueled with carbs to start your muscles, B-vitamins to aid in energy metabolism, and electrolytes so you can make a statement early. Ranking in at 100 calories, this drink comes in a 4-ounce pouch, and is full of powerful ingredients to bring out your top performance. The pouch format is meant for convenient storage in your locker, gym bag, car, desk or purse. The flavor is great. Gatorade has never had difficultly with their flavoring or mouth fill. The seem to nail it dead-on every time! I loved this booster because it actually works! One of those drinks you are skeptical to try, but it does what it advertises and does it well.
Next in the series is "Perform", which is meant to be consumed throughout the duration of your exercise. Not any different from your typical gatorade. Keeps you hydrated. Quenches your thirst. Tastes great. Very light and satisfying. What I loved about it, is it didn't clash with the "primer". Meaning: I wasn't bloated or watered down afterwards and could maintain a high paced workout without struggling and stopping to take a break.
Last in the series is "Recover", equaling 60 calories, 8 grams of protein, and 7 grams of carbs in an 8 ounce serving, (there are 2 servings in the bottle). I don't hate it, but I don't love it. That is the best way to describe this drink. I agree with the general idea to keep you balanced after an intense workout. However, most protein drinks are difficult to master a perfect flavor. So, it is what is.
Bottom Line: "Que Sera, Sera". Spanish for "Whatever Will Be, Will Be". I think it is the perfect high performance combination of energy needed for an intense workout. The flavors overall get an 8 out of 10 for me, and for a total of 3 drinks in the series, that is a great complete average!!
Posted by Cristi at April 5, 2012 11:52 PM
Beverage Industry Experts Drinks Your Beverage Resources for the Beverage Industry